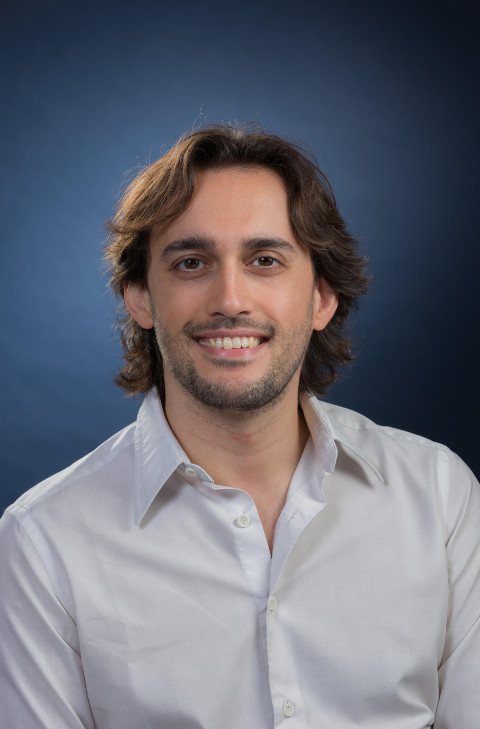 Main Research Activities
I am an assistant professor at Worcester Polytechnic Institute, where I direct NEST Lab. The focus of my research is designing innovative tools for swarm robotics.
Programming large-scale robot swarms

I am developing Buzz, an innovative programming language specifically designed for real-world robot swarms. Buzz was widely covered in the media, most notably by MIT Technology Review, Communications of the ACM, and RoboHub.

Accurate, physics-based simulation of robot swarms

During my Ph.D., I have designed ARGoS, which is currently the fastest general-purpose robot simulator in the literature. ARGoS is used by many laboratories across the world to perform accurate physics-based simulations of large-scale robots swarms. I am continuously improving ARGoS to suit the diverse needs of the swarm robotics research community.

Swarm robotics for disaster response

I am working on swarm robotics solutions for disaster response scenarios, such as search-and-rescue and firefighting.
Editorial Activities
Conference Chair

MRS2019 (area chair), AHS2017 (technical co-chair), ANTS2016 (publication chair), AHS2015 (tutorial chair)

Editor

Swarm Intelligence (associate editor, 2018-2021; guest editor, 2016-2017), ICRA (associate editor, 2020), IROS (associate editor, 2016-2019), Frontiers Robotics&AI Multi-Robot Systems (guest editor, 2017-2019)

Program Committee Member (last 3 years)

AAAI2020, GECCO2019, IJCAI2019, RSS Pioneers Workshop, DroNet19, ARMS@AAMAS19
AHS2018, ANTS2018, DARS2018, GECCO2018, ICDS2018, IJCAI-ECAI2018, ISER2018, SAC2018
CAS@SAC2017, DRONET17, ICCCN2017, MRS2017
Awards and Honors
2019 nominee for Best Faculty Advisor Award at WPI
2019 winner of the WPI Robotics Engineering Provost MQP Award for the Major Qualifying Project Oddisy Drone Dispatch System (students: Noah Hillman, Nick Sorensen, Marek Travnikar, Steven Viola; co-advised with Proff. Nick Bertozzi, Reinhold Ludwig, Brad Miller)
2019 honorable mentions in the WPI Computer Science Provost MQP Award and Robotics Engineering Director MQP Award for the Major Qualifying Project Diagnosing Robotic Swarms (Dr. Swarm) (students: Josiah Boucher, Jerish Brown, Erika Snow, Alexandra Wheeler; co-advised with Prof. Lane Harrison)
2018 Rho Beta Epsilon Award for Excellence in Robotics Education
2018 winner of the WPI Computer Science Provost MQP Award and honorable mention in the Robotics Engineering Provost MQP Award for the Major Qualifying Project Autonomous Strategic Games and Robotic Design (students: Griffin ​Tabor, Jonathan ​Berry, Evan ​Gilgenbach; co-advised with Prof. Ken Stafford)
2015 F.R.S.-FNRS Chargé des Recherches, 3-year postdoctoral fellowship
2015 Winner of the PLOW Scientific Computing Challenge
2014, 2015 selected as Banting Candidate by École Polytechnique de Montréal (top-2 postdocs across university)
2012 winner of the Most Innovative Technology award at the Robot Film Festival for Swarmanoid, the movie
2011 winner of the AAAI video competition for Swarmanoid, the movie